Young Swansea entrepreneur makes national finals for major business award
May 21, 2007
Monday, 29th January 2007 – ITWales.com by Sali Earls
A software developer from Swansea is in the running for a top business award, after displaying his innovation and drive to the judges during the shortlisting process.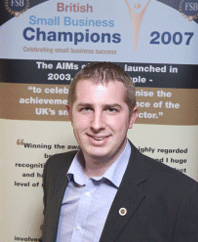 After meeting Andrew Downie, judges at the British Small Business Champions 2007 said, "This young business should continue to grow offering competitive products in a difficult market", of his company NetBop Technologies.
Twenty-five year old Andrew is a regional finalist in the Young Entrepreneur category. He founded NetBop Technologies five years ago, offering web development and ecommerce solutions to business. The company has flourished in a short time, recently expanding with new staff and moving into larger premises in Swansea.
Speaking about his position as finalist, Andrew Downie said, "I'm ecstatic to get to this stage of the competition and keen to face the challenges of the next round of judging in London next month."
Unlike many web developers Downie has developed his own suite of products, including Bopspam, which blocks junk e-mails; and BopControl, a simple way for businesses to update their websites.
Downie is also prepared to take on the big boys and win. Last year he won the right to market his junk email filter, using the word 'spam', despite strong objections by the makers of the American meat product, SPAM.
No stranger to award ceremonies, Downie has collected a series of accolades over the years for his websites and products, including Web User Magazine's Gold Award twice. The company was named in Wales Hot 100 last year and Downie himself has been identified as one of the rising stars of Welsh business.
The British Small Business Champions Awards are the only national awards exclusively for small businesses. Established in 2003 by the Federation of Small Businesses to celebrate the achievements and raise the profile of the UK's four million small businesses.