Welsh web company announces UK expansion
May 12, 2011
A leading South Wales web development company has announced its further expansion into the North West of England.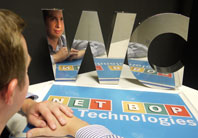 Swansea-based web design and developers NetBop has acquired customers from Website Centre Limited following a six-month transition process from the original Manchester-based owners.
Founded by managing director Andrew Downie in 2002, NetBop currently employs a team of six from its offices in Swansea city centre and provides web design, e-commerce and hosting services to clients throughout the UK.
During the takeover period NetBop has been servicing Website Centre's clients from a satellite office in Didsbury, Manchester and anticipates the successful transfer of all client services to NetBop's Swansea headquarters this summer resulting in a 15 per cent growth in client work, leading to the appointment of an additional member of staff.
Speaking of the acquisition, Andrew Downie said:
"NetBop has always serviced clients throughout the UK and this expansion is the next step forward in cementing a superb service to a wider clientele. This new development will increase our web development and management client list by over 15 per cent and has already lead to many exciting opportunities for the existing NetBop team in Swansea."
"We are very much looking forward to working on behalf of our newly acquired clients assisting them to have the presence and functionality to make them succeed, while continue to further develop the NetBop brand, capabilities and presence throughout the UK."
Mr Downie, who set up NetBop at the age of 21, completed the acquisition with the assistance of Sovereign Business Transfer Limited. Director of Sovereign Business Transfer, Matthew Trinder, said: "NetBop has completed a successful handover period during which Website Centre clients have reported a seamless transition with improved levels of support and customer service."
NetBop is the recipient of the WebUser gold award and has created internationally awarded products including the online spam filter BopSpam, BopControl and BopStats.