Swansea company scales new height in customer service
January 7, 2010
A city centre company is proving that customer service is the way to get ahead. NetBop Technologies, based in Wind Street, has been awarded the prestigious Investors in People Award.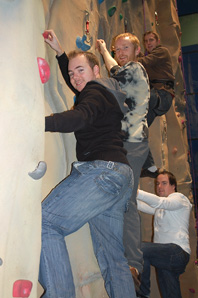 NetBop was founded eight years ago by Company Director, Andrew Downie. He says that he wanted to work towards the award to further improve customer service.
"It has taken a year to go through the entire process and our key aim was to make staff more aware of all aspects of the company so they could offer a fully comprehensive customer service."
Investors in People helps organisations transform their business performance. It is the UK's leading people management business improvement standard and it aims to help businesses improve through developing their staff.
NetBop employs six staff at its city centre office. As well as creating websites for companies and organisations across the UK its director, Andrew Downie has developed unique products such as the award winning spam filter, Bopspam, which blocks unwanted and potentially dangerous emails from clogging up computers.
"It made sense for us to go for IIP at this stage by developing both our employees and policies to make us stronger. I am convinced these will improve business as a consequence and prepare us for future further expansion."
NetBop Technologies recently acquired Hosting Wales Internet Ltd to further expand its client base as well as unveiling a new look website.
Andrew Downie said that over the past six months they had developed a Customer Service Charter and regularly surveys clients to monitor its performance as a direct result of the IIP award process.
"Customer Service has always been a top priority for us and this was partially why I was interested in how IIP would help us develop this area. From our monitoring we have discovered that 92% of our projects were delivered on time and to budget and 100% of our customers say that we added value to their projects through creative ideas."
"IIP has also helped us develop our internal communications and improve how we share information between all staff. It also concentrated our efforts on using clear easy to understand language in an industry which is often guilty of deluging clients with jargon." Andrew added.
In his report, IIP Assessor, Wil Howcroft, praised the company's emphasis on clear communication and team work.
"The open and supportive culture of the organisation ensures that everyone interviewed strongly believed that the organisation is committed to their training and development for the benefit of themselves and the business. Employees feel genuinely appreciated for their efforts, and there exists an atmosphere of two-way respect between the staff and the Director. Excellent teamwork was evidenced between a balanced, responsible team, which includes all those involved."