Swansea anti-spam company wins trademark ruling
June 15, 2006
Thursday, 15th June 2006 – by Sali Earls,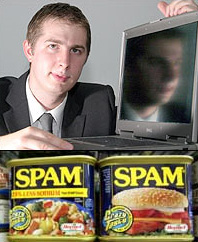 After a testing 18 months, Swansea based NetBop Technologies Ltd has become the first company to secure a UK or European text trade mark registration containing the word 'spam', after strong objections from the owner of the SPAM trade mark.
Known for their award winning BopSpam product, NetBop wanted to secure the trademark to prevent others using the same or similar names. Unfortunately Hormel Foods Corporation, the US producer of meat and food products including SPAM, objects to companies such as NetBop who attempt to register trade marks including the word spam. The confusion caused by any name change would have had a serious impact on NetBop's business.
Hormel's Trademark Attorneys opposed NetBop's application to register BopSpam in March 2005, and in an unusual turn of events at a preliminary hearing, the Patent Office's indication was in NetBop's favour. In February this year Hormel Foods Corporation finally dropped their opposition to allow the trademark "BopSpam" to proceed to registration covering goods and services which prevent unwanted emails.
Andrew Downie, Managing Director of NetBop Technologies LtdAndrew Downie, NetBop's Managing Director, said, "We are ecstatic with the outcome as for a while it did look like we would have to change the product name. We would never have dreamed there would be such an issue with securing a created name which contains a word used in people's everyday lives."
"Again, this shows that even a business based in Swansea can triumph against a large US Corporation that has previously won objections against many trade marks over the past few years, including those proposed by AOL and Cloudmark."
Downie continues,
"This comes at a great time for us at NetBop as we are in the process of launching our BopSpam corporate product which will curb the problem of junk emails for any business and will guarantee you never lose an email to the filter. The new service is competitively priced and is aimed at companies with 50 or more email boxes."
"The uptake of the traditional BopSpam filter has soared since our recent award from Web User magazine and we intend to keep focusing on improving our service to remain a market leader."
Swansea-based Registered Trade Mark Attorney and Patent Attorney Hedley Austin, of the firm Chapman Molony, commented,
"Trade marks are valuable commercial assets and most companies need professional advice to make sure that their interests are protected. NetBop have done very well without such advice – it is unusual for a small company to be able to conduct their own negotiations when faced by the resources of a multi-national company such as Hormel and achieve a clearly satisfactory result. Net Bop are therefore to be congratulated in securing a UK trade mark registration including the word "spam". They appear to be the first to secure registration of a UK or European text trademark registration containing the word spam in the face of objections by the owner of the trade mark 'SPAM'."
NetBop Technologies Ltd was established by Swansea University Graduate Andrew Downie just over 2 years ago, and is growing from strength to strength with the recent appointment of a new member of staff. NetBop also specialises in online e-commerce development and are currently working with Cardiff based hotel product specialists Northmace & Hendon Limited, to create a fully automated online shopping experience for their customers.