New year, new offices
January 29, 2007
Monday, 29th January 2007 – Swansea Business Post
Award-winning local web design company NetBop Technologies kick-started 2007 with a move to the Swansea West Business Park.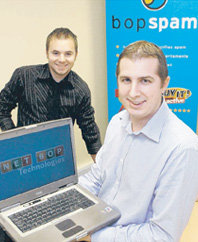 The move is set to establish NetBop as one of Swansea's leading web development companies. The company has seen tremendous success over the past year, and have recently taken on two new graduates from universities within Wales.
Last year was an exciting year for NetBop, and one which included winning a landmark trademark case for the use of the word Bopspam for the company's flagship spam filter against US food giants Hormel Foods. The company was also listed as one of the Hot 100 companies in Wales, and managing director Andrew Downie was named as one of the top 25 rising stars of welsh business.
Since its creation NetBop has worked with many local companies dealing with all types of website development, and were delighted to be awarded the contract to work with local firms Garems in Cross Hands to develop their new e-commerce store, which now sells hundreds of product lines online to customers throughout the UK.
Another company that has enjoyed a wider customer base as a result of NetBop establishing their web presence is the West Wales Dive Centre.
The centre's Craig Flannery said: "By creating a professional looking website for us, NetBop increased the number of divers using our centre, and we have had lots of comments of how informative and easily navigated the site has been. NetBop were great and we recommend them with no hesitation."
NetBop works with a broad spectrum of companies providing not only web development, but also search engine optimisation, website statistics and online control panels which enable clients to easily alter website content. Clients who use such services include the Serious Fraud Office in London.
Managing director Andrew Downie said: "So many local businesses have ideas about what they would like to achieve online, but don't know where to go to discuss their ideas and formulate some kind of plan.
"Setting up a website is a daunting experience for anyone, and our approach is designed to make it a painless process from start to finish. I'm certainly looking forward to helping local businesses with their website needs and the challenges 2007 will bring."