NetBop's Director appointed on the Strategy Board for Swansea Employability Academy
March 15, 2012
Each year, many students across the country are completing their degrees in their chosen field and then are struggling to either find work or to continue on to further education.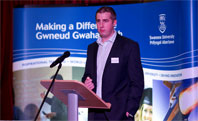 The aim of the Swansea Employability Academy Strategy Board is to define the changes and amendments to current activities which will be required in order to ensure that Swansea University increases the employability of students once they complete their studies.
Currently Swansea is performing very well and currently over 90% of its students are in work or further study six months after graduating, but Swansea University will give its students even more of a head start and launches a new Employability Academy.
The Academy will focus on enhancing work placement opportunities, developing entrepreneurial skills and supporting enterprise. Its aims are to increase:
The proportion of graduates securing graduate employment
Engagement by employers, employer representatives and professional bodies in student learning
The number of students doing work placements, including overseas
The Academy was launched on the university campus on Thursday 15 March by Edwina Hart, AM, Minister for Business, Enterprise, Technology and Science.
In her speech Mrs Hart said:"I congratulate Swansea on its innovation."
"In these difficult times it is vital that young people have a can-do attitude so they can adapt to new challenges and be motivated to succeed. This new Academy is not only designed to enhance the employment opportunities of young people but to widen their experiences, which is to be welcomed.""
Mr Downie, followed the Minister speaking at the event on his experience of graduating from Swansea University to running a successful business: "Swansea University has the right idea, and it certainly reflects industry's need for highly employable and enterprising graduates. Not everyone has the qualities of being an entrepreneur, but enabling students to be more enterprising and essential business skills will make them more employable."
"It's great to be involved on the board and on an going basis being able to help shape the programme based on my own experiences"