NetBop's Director appointed on the board of Swansea Business Improvement District (BID)
October 18, 2010
The Managing Director of a leading city centre based web development company has been appointed to the board of the Swansea's Business Improvement District (BID).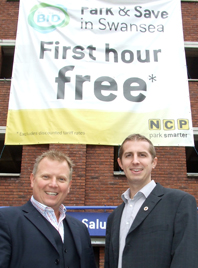 Andrew Downie, who at the age of 21 founded the successful website company NetBop and has since been profiled in the Federation for Small Businesses (FSB) top young entrepreneurs list, is to join the board of directors at Swansea BID where he will advise on the work of BID in the city centre from the perspective of a successful city centre-based business owner.
Mr Downie, 29, who employs a team of five from NetBop's Wind Street offices, will work alongside the existing BID team headed by Russell Greenslade where he will advise on the ongoing improvements to the city centre generated by the BID while drawing on his own areas of business expertise.
Funded by a one per cent levy paid by city centre businesses, Swansea BID was established in 2006 and represents the interests of over 700 businesses with the view to maximising the potential of the city centre for businesses and customers. Key developments initiated by the work of Swansea BID include the highly popular one-hour free parking scheme at the NCP Car Park at Salubrious Place, and the introduction of city centre Rangers.
Talking of his appointment to the board at Swansea BID, Andrew Downie said: "I am looking forward to beginning work with the BID team. As a business owner I have witnessed the direct impact that BID has had on the city centre and I am passionate about how Swansea can continue to better itself."
"With the continued work of BID, and the input from our members we can build on the services, which thanks to BID, have already been achieved for the good of Swansea businesses. These achievements are proving to be, and will continue to be, positive for trade in the centre of town and the perception of our work in the city."
Speaking of Mr Downie's appointment to the Board, Russell Greenslade, General Manager of Swansea BID said: " It's great to have Andrew on board as a Director. As an independent trader in the city centre, Andrew truly understands what BID does and how it benefits the city centre and its members businesses by delivering numerous tangible benefits."
"The BID Board and I look forward to working with Andrew and using his wealth of experience in business to delivery projects. "