NetBop Awarded 'Business of the Month' for July 2011
July 11, 2011
Swansea-based web design company NetBop won the title of South Wales Evening Post and Swansea Bay Business Life Business of the Month for July.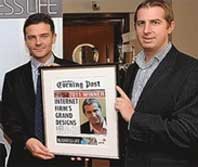 The firm, which is run from headquarters on Wind Street, is preparing to celebrate 10 years in business and recently acquired Website Centre Limited following a six-month transition process from its original Manchester- based owners.
NetBop founder Andrew Downie said: "Being in the centre of town is fabulous for us.
"We find a third of our business is local and people who are local know where we are. We are always changing what we can offer."
"Web design is a constantly changing marketplace."
"We have got clients from individuals that want to increase trade from their customers up to large companies but customer service is what sets us apart."
"We always go that extra mile to make sure everything works correctly first time."
Mr Downie said NetBop works with everyone from painters and decorators up to blue chip companies.
Every month the South Wales Evening Post and Swansea Bay Business Life recognise the best businesses in the region.