NetBop aims to Bee Carbon Free
October 12, 2008
A Swansea company is going green – quite literally. NetBop Technologies is the first web development company in Wales to plant trees in a bid to off set its carbon footprint.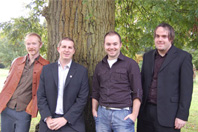 Andrew Downie, 27, calculated that his company and customers create a total of 25,000 miles commuting to their offices in the Swansea West Business Park.
Andrew said, "We already try to do our bit to reduce waste including issuing e-invoices and electronic payments. But I felt we could do more to reduce our carbon emissions – not just of our staff but also our customers."
He added, "We were approached by Bee Carbon Free, to design their website and when we learnt more about the scheme we decided we wanted to support their work."
He said, "It was easy to work out how many trees we needed to plant to offset our annual emissions thanks the online calculator. We are now getting ready to plant 20 trees in the Clyne Valley."
Trees naturally absorb carbon dioxide, which is produced by vehicles and industry, and via a process called photosynthesis it is released back into the atmosphere as Oxygen or as nutrients back into the ground.
Debbie O Connell, Operations Director for Bee Carbon Free said, "This is a practical and realistic way that companies can start to address their carbon footprint. Our programme allows you to offset your vehicle carbon emissions or those of your customers that have to travel to your premises. Trees are then planted in several plant site locations around the UK to offset the CO². But you can also nominate your own site such as a local school, charity or community centre that you feel would benefit."
Staff from NetBop will join currently six other local companies to plant their trees in Clyne Valley Country Park during National Tree Week (26th Nov-7th Dec). They will be helped by local scout groups and schools.
Andrew added, "I would encourage other businesses to boost their green credentials and plant trees. This is a simple way of helping the environment and we also hope contribute to other local communities in Swansea in the future by offering them trees."
For more information about Bee Carbon Free and how you can join in the planting in Swansea contact Debbie O' Connell on: 0207 989 0404. For an interview with Andrew Downie please ring: 01792 588 277.