Helping to surf safely – BopSpam filters its 35th millionth junk email
October 12, 2007
A Swansea IT expert is celebrating after helping to block 35 million junk emails.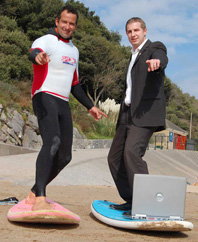 Andrew Downie, who developed the spam filter, Bopspam, three years ago, has helped local and national companies block unwanted and potentially dangerous emails clogging up their computers.
Last year, Andrew, MD of NetBop Technologies, won a landmark legal case that won him the right to market the email filter using the word 'spam', despite strong objections by the makers of the American meat product, SPAM.
Andrew, 25, says he is amazed that the award-winning product has hit the 35 millionth mark in such a relatively short time. He said, "It just proves how much our computers are bombarded by junk every day. Trawling through useless emails and dealing with them costs businesses' money and wastes individual's time. It also blocks potentially harmful emails which target children's email accounts."
Gower Surf Development became the recipient of the 35 millionth junk email. Its' Director, Simon Jayham, says Bopspam has helped him concentrate on his business. "I am regularly out of the country and often have restricted email access, so I don't want to spend precious time sifting through the junk to find genuine enquiries and correspondents. It's saved me valuable time."
Andrew has helped businesses all over the world block junk emails including clients in France, Spain and China. Bopspam can even read other languages including Chinese characters to block junk mail.
Andrew added, "Bopspam blocks all the three main types of unwanted emails; adverts for products like Viagra, rogue phishing emails from fake banks and those containing potentially lethal virus that could shut down your whole system."
For further details please contact NetBop on 01792 588 277