Expansion's no gamble for Swansea firm
September 18, 2008
A Swansea company is proving that expansion isn't a gamble – even in these testing economic times.
NetBop Technologies has announced its expansion with the acquisition of Hosting Wales Internet Ltd as well as moving its operations to a prime city centre location.
Company Director, Andrew Downie, said:
"The majority of our customers are based in the South Wales area and so this expansion will give us a larger customer base throughout Wales. I have never been afraid to expand and despite the bleak economic outlook it was a good time for us to take on more clients."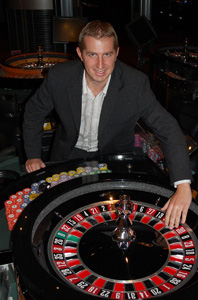 Andrew Downie founded NetBop Technologies seven years ago. The award winning company offers web development and ecommerce. Unlike other web development companies, Andrew has created his own products including Bopspam, which blocks junk e-mails and BopControl, a simple way for businesses to update their websites.
NetBop has hundreds of clients from all sectors including manufacturing, toursim and the public sector. Andrew says they are attracting new clients as companies realise the benefits of website and ecommerce to target and retain customers
"Some businesses may look at cutting back on marketing during a recession but it should be seen as an effective way of creating new business. Our clients actively seek us out for the services that we can provide. We've now become accredited registrar with Nominet UK, which means we can register our own domain names. Also two of our staff are Google qualified, so they can advise clients on campaign managment and advertising on Google."
While other sectors may be finding it tough, NetBop Technologies has taken the opportunity to move from it original base in Fforestfach to a prestigious city centre location at the Aspers office complex on Wind Street.
"It is good to be in the city. It is easier for our clients to come to us and staff enjoy taking a break outside thanks to the nearby cafes and shops." Andrew added.
For further details please contact NetBop on 01792 588 277